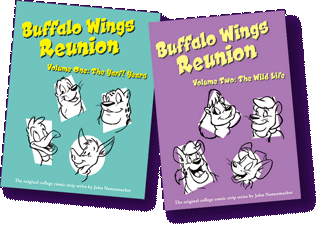 … until 2004, when I was approached by Sofawolf Press about tackling the project again. The first book to come out of this was a set of reprints of the original comics: Buffalo Wings Reunion Volume One: The Yarf! Years, reprinting the first series and including a final chapter drawn by Vince Suzukawa to wrap up a few of the cliffhangers that had been hanging in that version for over a decade A year later, in 2005, Buffalo Wings Reunion Volume Two: The Wild Life collected the later storyline.
At the time, I hated to leave the story hanging again, but I was still kept too busy with work to commit myself to a regular comic series. So a desperate plan was hatched: We would release a yearly graphic novel, with scripts and layouts written by me but with segments of the stories illustrated by a stable of artists I was excited to work with: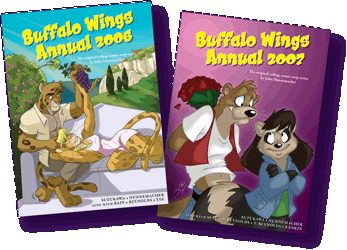 Vince again, Sue Rankin, Brian Reynolds and Tracy Reynolds, Brian Yee … I even managed to snag Jen Seng and British artist Theo Bain to do some color covers.
Everything was in place. Buffalo Wings Annual 2006 picked up where the Wild Life stories had left off. A year later, Buffalo Wings Annual 2007 continued. And then …