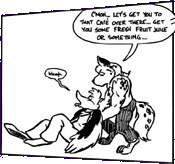 Buffalo Wings was, of course, a comic strip I started while attending college in the early 1990s. I'd recently discovered the nascent furry fandom and wanted to submit something to the newly formed Yarf! fanzine. What started as an overblown science fiction melodrama turned into — with the standard literary advice of "write what you know" — into a funny-animal slice-of-life story of a group of friends attending the fictional Boxen University.
There were actually two distinct versions of Buffalo Wings. The early Yarf! comics were crudely drawn and a bit rough in their writing.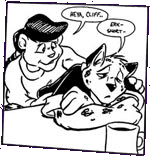 The story began in medias res, with most of the characters upperclassmen and already friends with each other. A few years later, when I was approached by Antarctic Press about moving the story to their Wild Life comic anthology, I decided to start the story from scratch, setting the characters as freshmen and sophomores, many of them just meeting each other for the first time.
Unfortunately, Wild Life was cancelled after twelve issues, before many planned storylines had a chance to come to fruition. During that time I was also getting busy pursuing my post-college career. For over a decade, it seemed that Stuart, Cliff, Sarah, Willard, and the rest of the gang would never return …
-
In the Beginning | Haven't We Been Here Before? | Best Laid Plans | You Always Hurt the Ones you Love
---
All content on this site is ©2014 by Cooner, except for artwork produced by Vince Suzukawa, Theo Bain, Jen Seng, or others. All rights reserved. Please do not copy or redistrubute any portions of this material by mechanical, electronic, or other means.